Egypt
Egypt has a ton of history and the pyramids, tombs and temples here are absolutely worth visiting in person. It's also a major cultural and economic force in the Middle East with a ton of interesting history beyond Ancient Egypt.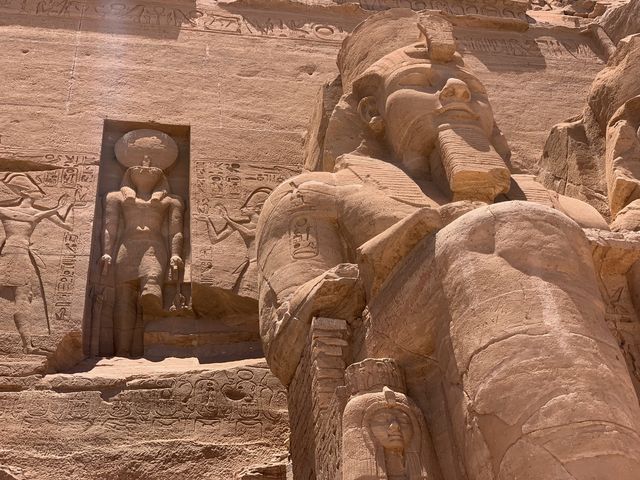 Exploring Egypt
Egypt is a large country, both geographically and by population. Most visitors come for the Ancient Egyptian ruins, including the Pyramids, Valley of the Kings (where King Tut is buried) and Luxor, and see Cairo on the way in or out.
Cairo & Giza pyramids
Cairo is the massive and bustling capital of Egypt. It's poorer and more polluted than I expected, and reminded me a lot of Delhi, India. The historic souk in Islamic Cairo and the citadel and neighboring mosque are wonderful to visit. Giza and the pyramids are on the edge of Cairo, as is the new Egyptian museum they're building (opening 2020).
Nile, Luxor & Aswan
Luxor and Aswan are two cities on the Nile that hold most of the famous tombs and temples of Egyptian antiquities, and many people travel between them by boat on the Nile (you can start at either side, we started at Luxor but either way would be fine!). You can extend your trip with a visit to the temple at Abu Simbel, a quick flight from Aswan, which is easier than it sounds and we loved it.
Alexandria
A bit like Cairo but slightly more laid back given proximity to Mediterranean. Great seafood and shisha cafes on the main drag along the water.  You could make this a separate 1-2 day trip by train from Cairo or if you go over-land to Siwa or other beaches along the North Coast you could stop here on the way.
Siwa Oasis
It takes a long time to get here, but it's well worth it. Siwa is an amazing oasis with buildings built from mud and palm wood and little dirt roads which you can bike along.  You can do a number of overnight camping trips in the desert from here, incredible landscapes during the day and gorgeous stars at night.
Reading
The Arabs: A History by Eugene Rogan is a fantastic overview of the history of the Arabs and the Middle East. It's long, but it moves pretty quickly. You can always skip the first few chapters if you're more interested in 20th century history. Much of the book is about Egypt given how influential Egypt was and is in the area. Nasser and Arab nationalism / socialism was particularly interesting for me, as was Egypt's history with Israel.
To get up to speed on Egyptian history relatively quickly, start with a History of Egypt. Then consider digging deeper on Ancient Egypt, founder of modern Egypt Muhammad Ali, 2nd president and socialist leade Nasser, Arab nationalism, Sadat (first to engage with Israel)
Day 1: Cairo
🏛 See: Egyptian Museum - 3 hours - this place is huge! We loved the mummies and items from King Tut's tomb the best.
🍽 Eat: Plenty of local hummus spots nearby the museum and Tahrir Square (location of the 2011 revolution protests)
🏛 See: Citadel & Mosque of Muhammad Ali - 1-2 hours - great views over Cairo, and cool to be able to enter a mosque. There's a smaller mosque you can check out as well that's even older than Muhammad Ali mosque.
🍽 Eat: Dinner & strolling in Islamic Cairo: the souk is a bustling spot, you may get some harassment from people wanting you to check out their shops, but generally people were friendly. We stopped for falafel and sweets along the way.
🛏 Stay: Four Seasons Nile is located along the Nile river with views of the Pyramids in the distance
Day 2: Giza Pyramids
🍽 Eat: Breakfast at hotel - if you're at the Four Seasons, it's an incredible spread. Try the "foul" (fava beans - typical Egyptian breakfast) with freshly baked Egyptian bread, plus all of the fresh-squeezed juices, etc.
🏛 See: Pyramids & Sphinx - 3 hours - Would recommend getting a driver and tour guide to take you around here. It's fun to go inside the big pyramid, though super cramped! Be careful when locals offer to show you good photo spots, they'll want a tip ;) There's a spot you can go to get the "panorama" view - great for photos - and from there you can take a camel ride down to the Sphinx, which is fun if you've never been on a camel, albeit touristy.
🍽 Eat: Marriott Mena House restaurant is a calm spot overlooking the pyramids to grab a bite, though nothing particularly special about the food.
🏛 See: Sakkara - 1-2 hours - if you have time, there are some secondary tombs and the first ever pyramid here, but missable if you're on a timeline. We loved that there were few people here though, so we had some tombs entirely to ourselves.
✈ Fly to Luxor or Aswan either tonight and spend the night in Luxor or Aswan, or first thing tomorrow, depending on when your cruise takes off.
Day 3-5: Nile Cruise, Luxor & Aswan
You'll have your schedule planned for you by the cruise boat / tour operator, which makes things easy!
Cruise options:
The Sudan: historic charming old cruise boat
Oberoi Philae: modern, luxury cruise boat which we went on, though I'd opt for one of the other options for a bit more charm factor. Though this one has a pool (others don't) which was nice given May was hot.
Sail on a dahabiya (example): smaller, sailing boats
🌴 The Nile is lined with palms, papyrus, and small towns along the way. It's a beautiful to see this magestic river, plus you don't have to switch hotels every night. Meals are typically on board the boat, and you simply hop off to see the sights with a guide.
🏛 See: Luxor: this is where the major temple of Karnak is, as well as the Valley of the Kings where King Tut and others have their tombs
🏛 See: Aswan: this is a slightly larger city with a strong Nubian influence, where the Nasser dam is as well as a couple other temples
Day 6: Abu Simbel
✈️ Most people fly to and from Abu Simbel for a morning trip on a short <30 min flight, and most continue directly on to Cairo without even deplaning on the way back.
🏛 See: You'll spend about 2 hours at Abu Simbel, which is 2 large temples on Lake Nasser.
That evening, fly home! If you need to stay the night, the Le Meridien at the Cairo airport is quite nice.