Greece
Greece might be my favorite summer destination. The islands are rugged with a raw beauty I've found few other places, the food is excellent, the vibe is low key, and water is a gorgeous turquoise.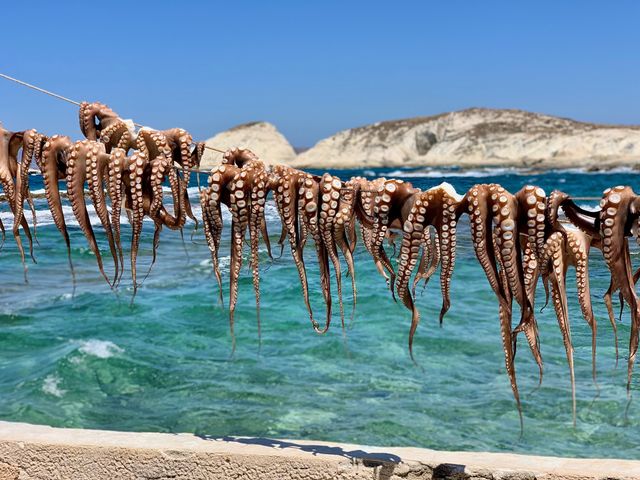 Athens
🛏 Stay: this Airbnb is simple but beautifully appointed, or stay at Electra Metropolis for a full-service hotel with pool and gorgeous rooftop views of the Acropolis
🍽 Eat: best thing to do is wander the streets of Plaka (cute historic neighborhood near the Acropolis) and eat somewhere a bit off the beaten path with an outdoor terrace - there are plenty of great options!
🏛 See: Acropolis, you can just walk up and buy a ticket, and optionally could join a tour; be warned that it's very hot and exposed during the summer - bring water and a hat!
📖 Read: 36 hours in Athens
---
Greek Islands
The below recommendations are for some of the more off-the-beaten path islands, mostly in the Cyclades (the island chain of Santorini and Mykonos, and one of several in the Aegean Sea). I try to steer towards small, authentic places to stay and eat, so you won't find luxury accommodations or 5-star restaurants below. But with Greece, that's not the point, and given the stunning scenery and simple way of life, you won't miss it.
Serifos: one of the closest Cycladic islands to Athens, popular among Greeks and lesser-known otherwise; you'd be hard-pressed to find another American here

Sifnos: second closest to Athens with a bit more going on, and known in particular for its food

Milos: the largest of the islands on this list with an airport for easier access; known for gorgeous cliffs and rock outcroppings that make for a stunning view from the water

Folegandros: charming "chora" (main town on a hill) with gorgeous sunsets, a bit more "on the map" and touristy, solid beaches

Amorgos: rugged and steep, with some great hard-to-get-to beaches, also a bit lesser-known and remote

Hydra: not part of the Cyclades and closer to Athens; known for its donkeys and being vehicle-free, plus its art and intellectual scene
Cyclades
The Cyclades are arguably the most famous island chain in Greece, and are known for their white-washed sugarcube houses with blue shutters.
Serifos
🛏 Stay: Stunning Airbnb with a gorgeous Greek interior and beautiful views, but be warned, it's quite a walk uphill through narrow streets so don't pack too much!
🍽 Eat: would recommend eating one meal in Livadi by the port/beach, and one up in Chora
🏖 Beach: Psili Ammos is sandy with trees for shade; would recommend looking into a boat trip to get to some of the more remote beaches
📖 Read: Travel Greece blog
Sifnos
🛏 Stay: Verina Astra or Suites (good for kids)
🍽 Eat: our favorite spot was Omega 3 - amazing rawbar and seafood right on the beach, we also loved the tavernas right on Vathi beach
🏖 Beach: we had a very unusual couple of rainy/cloudy days so we didn't do a ton of beach exploring - that said, there are several beaches on the island worth checking out
📖 Read: Conde Nast - the Most Delicious Greek Island
Milos
🛏 Stay: Cute Cycladic house situated on dramatic coastline, right next to the fabulous restaurant Medusa
🍽 Eat: Fournos Artemis bakery: we went back every day, it's that good. Get the cherry tomato pie and watermelon pie. Medusa: a quintessentially Greek spot right on the water. You'll see the fresh octopus drying in the sun, ready for your plate - order it grilled!
🏖 Beach: Sarakiniko is a cool "moon" like beach with great cliff jumping (be careful!); though I think the best way to see Milos is from the water, so hop on a catamaran - we loved Milos Adventures
📖 Read: Conde Nast - the Untouched Greek Island
Folegandros
🛏 Stay: we stayed at a basic family-run guest house, Hotel Castro, but we booked the top room with a private deck, and enjoyed the most gorgeous sunsets! Down the street is Anemomilos which is also perched over some dramatic views, with a pool and more creature comforts.
🍽 Eat: so many cute spots in Chora to eat, you can't go wrong
🏖 Beach: we hiked into a couple beaches, including Latinaki beach where we lounged in a patch of shade from a scraggily pine tree
📖 Read: NY Times article
Amorgos
🛏 Stay: We stayed at a lovely little guesthouse called Emprostiada, which is right near the Chora, and you can hike down a steep hill to a swimming hole below
🍽 Eat: Any of the tavernas in the Chora are wonderful. Make sure you stay out late, as some of the small squares get really lively with people drinking, playing music, etc.
🏖 Beach: my favorite beach of the Greek Islands is Mouro beach, not because there is much beach to speak of (it's a small spit of pebbles), but because the swimming along the coast is gorgeous, with plenty of nooks and rocks to explore and sun yourself on, plus a great taverna overlooking the water to have lunch at before/after your swim. Plus its a ways from town, affording dramatic drive with sweeping views to get there.
📖 Read: Conde Nast - the Fairest of the Greek Islands
Saronic Islands
A smaller chain of islands just off the Peloponnesian peninsula, making it more accessible from Athens. The topography is slightly less rugged than the Cyclades, and the architectural syle is neo-Classical, and the color palette is more tans and yellows instead of white and blue.
Hydra
🛏 Stay: Orloff boutique hotel for a splurge, or this Airbnb with stunning views (but also a serious hike up)
🍽 Eat: Lulu's is my favorite little spot for lunch - order the green beans, eggplant, and fried red mullet
🏖 Beach: instead of beaching it we hiked up to the monastery and just enjoyed sitting at cafes in the harbor :)
📖 Read: Conde Nast - the Laid-back Greek Island
---
Logistics
Transportation, including booking ferries and a car and/or scooter well in advance, is the most important logistical component of a trip to the Greek islands.
Make sure you look at ferry schedules and book using Direct Ferries. Not all ferries run directly to Folegandros and Amorgos which are a bit further out. Note that ferries are sometimes delayed, so leave several hours between when your ferry arrives back in Athens and your flight home.
I'd suggest visiting 2-3 islands on a trip, staying at least 2 nights, ideally 3 nights, per island.
Book lodging many months in advance if possible, as the best Airbnbs and guest houses go fast.
June and September are lovely months on the Greek islands, but if you want the heat that pairs so well with the cool turquoise waters and late night hangouts in the town square, July is my favorite month. August gets very busy with Europeans being on holiday.
Transportation: you'll want to book a car or scooter to get around. Scooters now required a motorcycle license (absurd new rule) and are the most fun and flexible option, though you're quite exposed to the sun while driving. Cars allow you some shade and A/C when driving around the island, but can be harder to park.
Restaurant reservations aren't usually required, and fancy restaurants and few and far between and not really what the Greek islands are about. Food quality tends to be pretty consistent so you can't go too wrong just showing up at a local taverna. Note that the Greeks don't head out to eat until 10pm! If you show up at 7 or 8, you'll be surrounded by tourists.
Greek letters are often used on signage, sometimes making it hard to read. But you probably know more Greek letters than you realize (or you can brush up here) and we found we could sound things out.
You could consider visiting Santorini, known for perch high above the water and its gorgeous sunsets, and Mykonos, known for its parties, but know you won't be alone.
Reading
Some give the Greeks a hard time for resting on their laurels about all that the Ancient Greeks gave to civilization, instead of working harder today to have impact. Whatever your perspective, Ancient Greece was indeed a fascinating time and place. Also worth reading about: Ottoman Greece, and the Greek War of Independence. Recommended long form reading includes:
The Story of Greece and Rome, Tony Spawforth
A Concise History of Greece, Richard Clogg
Food
Greek food is delicious and never too fancy. White table cloth fine-dining really isn't a thing in Greece, instead, fairly casual tavernas are the go-to move, with outdoor seating very common during the summer.
To drink, order your coffee "freddo", which is either an espresso or cappuccino served over ice with long skinny straws - incredibly refreshing on a hot summer day. And wine (typically white or rose) flows like water the rest of the day, served in pitchers.
At lunch and dinner, starters to share are my favorite part of the meal. I love melitzana salata (eggplant salad, similar to babaganoush) and tarama salata (fish roe), as well as saganaki (pan-friend cheese), any kind of "pie", often with cheese, spinach, or pine nuts, and Greek salad of course! I often order grilled octopus (traditionally enjoyed with a glass of ouzo, the local hard alcohol), fish, or souvlaki (grilled meat on sticks), plus baklava to round out the meal. Yamas!