New Zealand
New Zealand is renowned for its natural beauty and makes for a fantastic outdoors-oriented travel destination. It has magnificent scenery from beaches to rivers to glaciers to mountains. It's an English-speaking country with a relatively small population, so it's easy to get around and not overcrowded. The South Island is known for its dramatic mountain scenery and beautiful landscapes, and is the larger and cooler island.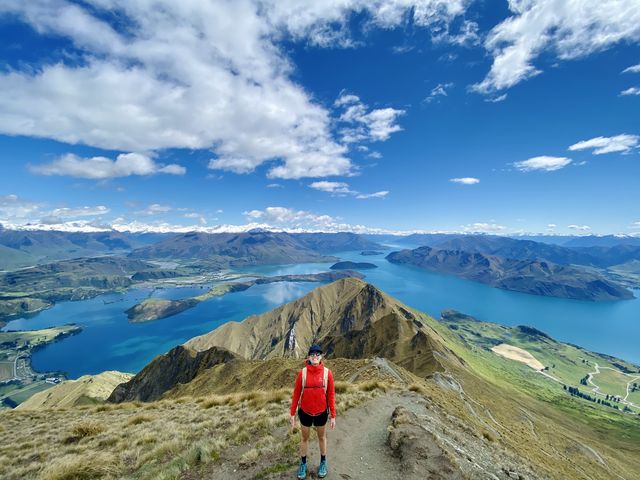 9+ Day Itinerary for the South Island
The itinerary below does not include Nelson and Abel Tasman in the north, nor visiting wine country, but those would make great additions to the more outdoors and Fiordland-focused trip laid out below.
Day 1: Arrive Christchurch
✈️ Fly into the Christchurch airport, rent a car, and spend the day either exploring Christchurch or head out for a beautiful drive to Pigeon Bay if you're staying at Annandale.
🍽 Eat: Twenty Seven Steps in Christchurch, or enjoy a prepared dinner and fire in the fireplace if you opt to stay at the Annandale.
🛏 Stay: Hotel George, Christchurch - cute boutique hotel (\() or [Annandale](https://www.annandale.com)'s Shepard's Cottage (\)$$), a beautifully restored cabin the middle of a working sheep and cattle farm with a fireplace and gourmet meals provided.
Day 2: Christchurch —> Mt. Cook
🚗 Drive from Christchurch to Twizel for bike setup at the Cycle Journeys shop to start your bike touring trip. Once you're outfitted, shuttle from Twizel to the Mt. Cook national park with your bike.
If it's nice weather, ask about the walking trails and take in the mountain scenery. If it's rainy, cozy up with a book.
🍽 Eat: Dinner at Hermitage Hotel — get the salmon which is caught right nearby.
🛏 Stay: Hermitage Hotel ($$): straight-forward, comfortable hotel in the middle of the mountains
Day 3-4: Mt Cook —> Lake Ohau —> Twizel
🚴🏼‍ You'll be biking for the next 2 days, starting from Mt. Cook down the Pukaki Lake on day 1, then through the flats to Lake Ohau on day 2. If you're feeling really fit, you could do this in a single day.
🛏 Stay: the Lake Ohau Lodge ($) is a charming motel/lodge overlooking the lake, with communal dinner and breakfast. Food was solid and the other guests were a friendly mix of travelers from all over.
Day 5: Twizel —> Wanaka
🚗 Make your way to Wanaka, which is a gorgeous drive from Twizel.
🍽 Eat: The Big Fig and the food trucks were our favorite lunch spots, though on a clear day anything overlooking the lake is a win.
The town of Wanaka is easily explored in an afternoon and has a couple fantastic gear shops. We also did a yoga class at Hot Yoga Fusion which was great after a few days of biking.
🍽 Eat: Kika is a California-esque spot with small plates and seasonal menu; Bistro Gentil is a cozier option with great French food. Both were excellent.
🎥 Cinema Paradiso is a charming local movie theater, with couches for seats and an intermission that features cookies fresh from the oven.
🛏 Stay:
Budget: Motels in New Zealand tend to be warm, family-run operations, and are often all you need when the focus is on the great outdoors. Wanaka View Motel ($) has great lake views right near town.
Splurge: Whare Kea Lodge ($$$) is a gorgeous lakeside option right down the road from town. Ask about staying overnight in their remote chalet in the mountains, accessed only by helicopter.
Day 6: Wanaka —> Glenorchy
🏔 Start the day with a hike up Roy's Peak! This was our favorite hike from the trip, just gorgeous on a clear day. It's a steep, fairly long hike and the parking lot fills up, so make sure to get there early, ideally by 8-8:30am. Bring water and snacks or a light lunch (though it's often cold and windy at the top so don't plan for a leisurely picnic) and plan for about 5-6 hours.
🚗 Drive to Glenorchy and settle in at your cute eco cabin. There are bikes and kayaks available if you're feeling up for it, but after a long hike, you may just want to chill.
🛏 Stay: Kinloch Lodge ($$). They have a charming old B&B and the ecoscape cabins. The cabins feature a huge glass wall overlooking the lake, and a projector hooked up to Netflix for movies after the sun goes down, or if it's raining. Enjoy a delicious home-cooked dinner and dessert in their communal dining room.
Day 7: Glenorchy
🏔 The Glenorchy area is stunning, and you can take it all in on foot, horseback, kayak, bike or car.
Depending on the weather and what activities you like, you could:
Horseback ride through majestic Lord of the Rings scenery with High Country Horses.
Hike some or all of the Routeburn trek (allow 2 days and 1 night at a hut en route if you want to do the whole thing, which I would highly recommend). Kinloch can arrange transportation for you at the other end so you can get back.
Kayak and/or bike straight from the lodge, with or without a guide
🛏 Stay: Kinloch Lodge
Day 8: Glenorchy —> Milford Sound
🚗 Get an early start today as it's a long, though very scenic, drive. Alternatively, you could take a helicopter there and back to drastically shorten the journey, or make it a longer journey and hike there via the Routeburn track which starts in Glenorchy and ends right near Milford Sound. Kinloch Lodge can help organize transportation upon completion of the trek.
If you're driving, stop in Queenstown to walk along the waterfront as your first pitstop. It's a bit touristy and commercial, so no need to stay long. If you fancy skydiving, bungy jumping, or another outdoor adventure, this is the place to do it.
Keep driving to Te Anau, where you can stop in for a snack at the Lakeview Cafe. The Kepler Track starts here, so you could also add another 3 day extension to your trip and do that trek starting here. It's a gorgeous 3 or 4-day hike, and you can book huts online to stay in each night with the Department of Conservation, and rent any gear you might need (like sleeping bags) in Te Anau.
Finally, you'll make it to Milford Sound. If it's a nice day and you have the time, hike Gertrude Saddle or Key Summit (part of the Routeburn track), which are along the road to Milford Sound and offer incredible views.
Note: it rains a lot in Fiordland, so don't be too disappointed if it looks like bad weather. The waterfalls are even more beautiful when it's raining!
🛏 Stay: If you're able to make it into Milford by 3:30pm, do the overnight cruise on Milford Sound run by Fiordland Discovery ($$$). It's a family-run, 12-guest operation with excellent food and an overall delightful experience. Would highly recommend this option.
If you'll be arriving later, spend the night at the Milford Lodge (the only accommodation in the area) and head out on a cruise the next day.
Day 9: Milford Sound —> Glenorchy —> home
🚗 Either drive, heli, or shuttle back to the Kinloch lodge. The lodge can help arrange transportation if you need it.
🛏 Stay: Kinloch lodge
✈️ The next morning you'll drive out from Glenorchy to the Queenstown airport.
---
Reading
New Zealand was uninhabited by humans until 1320-1350 when settlers from east Polynesia, now known as the Maori, first arrived. If you're short on time, check out the following: overall NZ overview, history, biodiversity, environment. The most widely recommended book on New Zealand is the engaging Come on shore and we will kill and eat you all, by Christina Thompson.
Logistics
Transportation and adequate outdoor clothing are the two top considerations when planning a New Zealand trip.
Visa: make sure you get a visa before arriving. You can apply online and you need to do this at least a day before you plan to fly there.
Driving is the best way to get around New Zealand, so rent a car, get used to driving on the left side of the road, and be prepared for narrow, 2-line highways and roads everywhere you go, and traveling at no more than about 60 mph.
Clothing: The South Island gets both rain and sun and the temperatures can get cold, especially in the mountains. Packing suggestions: bring 1 or 2 "nicer" outfits (though nothing is formal, more just a chance to take a break from wearing outdoor gear) for going out to eat in town, and the rest, layers of outdoor clothing, preferably wool or other non-cotton layers that will stay warm even when wet. Don't forget your rain jacket and pants, a warm hat, plus consider waterproof boots and gloves.