Paris
Paris is a classic. It has history, beauty, great food and wine, culture, and the arts, all in one place. Below is a guide on how to spend 3 perfect days in Paris, followed by some shopping, reading, food and art recs.
Paris is a classic. It has history, beauty, great food and wine, culture, and the arts, all in one place. Below is a guide on how to spend 3 perfect days in Paris, followed by some reading, food, shopping and art recs.
3 Days in Paris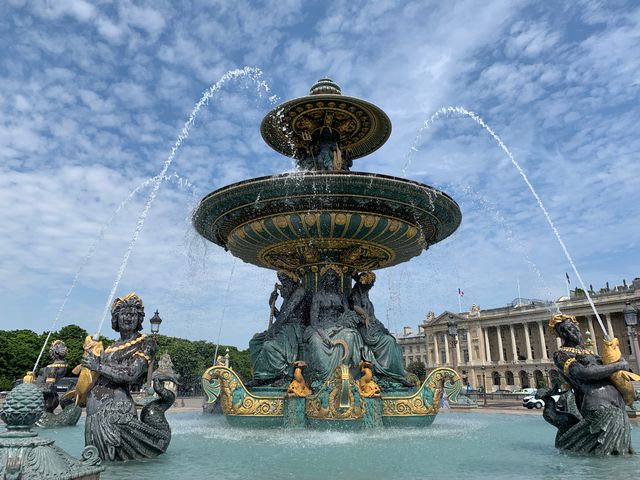 Day 1: Left Bank & Art
🍽 Eat: Breakfast @ Cafe de Flore - I like to get a noisette (espresso with a bit of milk) and a croissant or tartine (bread with butter and jam), or an omelette complet (with ham and cheese) if I'm feeling hungry
🏛 See: Visit Musee D'Orsay - buy tickets online, get there right when it opens to avoid the crowds, and definitely do the audio guide - it's great!
🍽 Eat: Lunch @ La Fontaine du Mars which is a classic brasserie in the 7th. Alternatively, back in the 6th sit outside at Croix Rouge or Comptoir du Relais; Comptoir Poulaine is a good indoor option for a cool and/or rainy day)
🏛 See: Stroll through Rue Cler to admire the cheese shops and other foodie stores, and then head over to the Eiffel Tower. Sit on the grass and admire the view (perhaps with a snack from Rue Cler!) or just take a few photos and continue strolling through the 7th. You can also walk past the Invalides and the gold-domed tomb of Napolean – if you're a history buff, you should probably stop in!
🍽 Eat: If you're craving something sweet late afternoon, do a little chocolate tour. Check out Pierre Herme (try the dark chocolate pastry and macarons of all flavors) and chocolates from Alain Ducasse (I love their praline chocolates).
🍸 Aperitif: start the evening with a walk along the Seine, followed by an aperitif at La Palette. Get a bottle of rose, and rillettes or terrine. Alternative: check out Bar Marche.
🍽 Eat: I am a sucker for the classic brasserie experience and would recommend La Rotonde, or if you're looking for something more low-key and inexpensive, get crepes at Breizh Cafe. Alternatively, Semillais excellent for nouveau French, or check out Josephine Chez Dumonet for a classic upscale spot.
Day 2: the Right Bank
Morning: Grab pastries atDu Pain et Des Idees(I highly recommend the red fruit escargots, or simply a croissant) and coffee at 10 Belles and check out the more hipster side of Paris.
Then make your way to the 3rd, known as the Marais, to visit the Picasso Museum, which is a lovely smaller museum in an old mansion.
Lunch @ Mokonuts (reserve in advance) for delicious French-Lebanese food in a small charming space; leave room for the cookies - particularly the Tahini ones!
Afternoon: a lot of what makes Paris so great is just walking around the city and stopping to watch the world go by at cafes.  Take a stroll through the Marais (3rd arrondisement), and then up into the 11th, where you'll have dinner, and where things are a bit more young and edgy.
Evening: Book 3 weeks ahead to snag a table at Septime, but if you aren't able to, hit up their sister restaurant Clamatofor small plates focused on seafood. Alternatively, check out Clown Barwhich is excellent.
If you're feeling like a drink after dinner, check out La Candelaria, a speak-easy serving Latin-inspired drinks.
Day 3: a day for Cafes, or an Outing outside the city
On day 3, now that you've gotten acquainted with both the left and right bank, stay local to where you're staying and do as the Parisians do. Find a cafe in the morning for a coffee and croissant, people watch, or perhaps read a book. Then stroll around, dropping into shops. If you're feeling like you want a destination, here are a few fun ones that you could then craft a day around:
Montmartre - artsy district home the Moulin Rouge and the Sacre Coeur (the big church on top of a hill overlooking Paris) - find a walking tour online to follow (example)
Fondation Louis Vuitton- contemporary art museum in a Frank Gehry building in the Bois de Boulogne. Combine this with the Parc de Bagatelle, which includes several gardens. In springtime the rose garden is divine.
Day trips to Versaillesand Giverny are excellent. I would suggest a private tour if you like being able to ask questions, but we didn't take one this time around so don't have any suggestions.
---
Reading
A trip to a Parisian cafe wouldn't be complete without a book to page through when taking a break from people watching. Sitting at a cafe in Paris means playing both the part of spectator and actor, so dress accordingly, don't slouch, and definitely don't read anything trashy (it's bad enough you're reading in English).
A Moveable Feast by Ernest Hemmingway - an absolute classic, but not stuffy or long-winded. Makes you feel like  you're in Paris with Ernest in the 1920s.
Paris to the Moon by Adam Gopnick - a beautifully written set of memoir essays on living in Paris
Paris Reborn by Stephane Kirkland - how Napolean III and Haussman transformed Paris in the mid-late 19th century, so you're a more informed "flaneur". Alternative: How Paris Became Paris on the same topic
My favorite references on Paris are: 500 secrets (it's a super cute book to tote around) and Goop's guide to Paris, which has a fantastic map in their mobile app.
Food
Eating and drinking in Paris is a glutton's paradise. First, get used to drinking espressos. Any other coffee format just isn't nearly as French (despite its name, the French press isn't actually French). Breakfast is typically a croissant, but an omellette is an acceptable alternative. For lunch, my favorite thing to order is tartare de boeuf, which I eat with generous amounts of spicy yellow mustard. For dinner, the options are endless and vary widely depending on if you're eating at a classic French bistro or a more contemporary spot. There are countless food blogs about eating in Paris, so I'll leave you to chef and author David Lebovitz and the team at Paris by Mouth.
History
France had several major regime changes, going from Republic back to Empire twice, for example, so unlike the U.S. there wasn't a clean establishment of government institutions that endured. I knew about the French revolution and Napolean, but not much after that. I found it useful to read about each of these periods, including: Revolution, Napolean, Second Empire(Napolean III and Haussman - Paris Reborn is about this period), Third Republic, WWII. French art, cuisine, wine are also fun to read about.
Shopping
When traveling abroad, I like to buy what the place does best, and in the case of France, that's timeless, sophisticated clothing, lingerie, and perfume.
For clothing, my favorite French brands are Maje, Sandro, Kooples, Sezane, COS (technically not French, but of French sensibilhity), Veja for sneakers, Bensimon for classic French flats, and Celine for handbags.
Le Bon Marche so much more than a department store - check out their grocery, home decor, and of course clothing - it's a great place to get a sense for many of the French brands all in one place. It's also an excellent place to shop for lingerie. Eres is a splurge but lovely.
For beauty/fragrances/candles, check out Buly and Diptique.