Southern Italy
Puglia is the heel of Italy, deep in the South and not on the typical tourist path (though it has gotten a bit more on the radar in recent years). It is a mostly flat, hot (at least in summer), food-focused (though what Italian place isn't?) and steeped in history. Renting a car is really the only way to get around, but be warned that the Italians are aggressive drivers! The Amalfi coast is stunning, and a perfect pairing with the intoxicating city of Naples. Be warned that driving along the Amalfi coast is not for the faint of heart. I'd recommend visiting in May, June or September to avoid heat and crowds.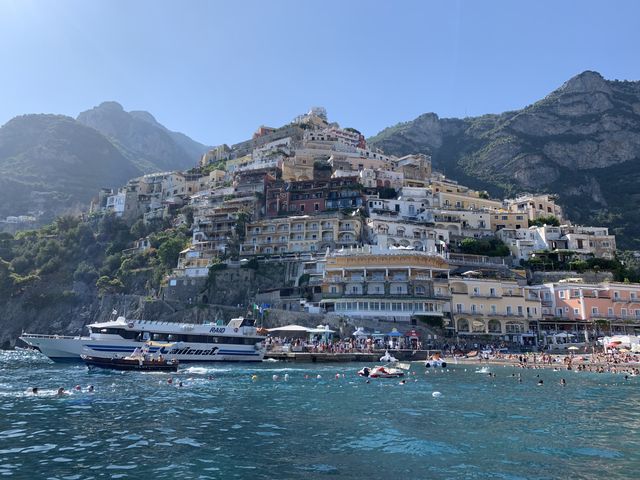 Food
Italian food is considered by many to be the pinnacle of cuisines. However, Italian food, like its culture and economy, is very regional. Southern Italian cuisine features foods that grow well in its hot, dry climate, such as tomatoes, peppers, eggplant, and olive oil, plus seafood for coastal communities. You'll find it easier than many other places in Europe to be a vegetarian. Historically Puglia was a very poor area with a harsh environment, meaning little meat was eaten. Instead, you'll find a lot of vegetables, including many delicious and healthy chicories, and pastas (though not of the egg variety, found in northern Italy). And Naples is of course famous for Napolean-style pizza.
Reading
History
Italy's cultural impact on the world is astounding. But curiously, much of this impact came from when Italy wasn't the unified nation-state that it is today – in fact Italian unification only happened in 1861. For a quick crash course in Italian history, read through these Wikipedia pages: Roman Empire, Italian Renaissance, Kingdom of Naples, Republic of Venice, Italian Fascism.
Puglia
Ostuni
🛏 Stay: this Masseria is beautifully restored, and also has a large swimming pool for hot days
🏛 See: head straight to the old town and wander up its narrow streets. We also did a great bike tour organized by the Masseria through olive groves and along the coast.
🍽 Eat: Taverna Della Gelosia in Ostuni is excellent. We also loved the market they have on Saturdays, would be great if you rented an Airbnb in Ostuni and cooked.
Lecce
🛏 Stay: this is an old, charming BnB just a stone's throw from the historic district
🏛 See: sign up for a cooking class with Italo-American Silvestro at his home for his  Awaiting Table cooking class to learn how to cook Puglian cuisine, including fresh pasta
🍽 Eat: Get an almond milk coffee at Caffe Alvino and gelato at Gelateria Natale. We actually didn't love our dinner in Lecce, and we had heard there aren't any great restaurants in Lecce, so won't recommend anything.
Otranto/the heel
🛏 Stay: Convento di Santa Maria di Costantinopoli, a magical restored convento run by an elegant Greek woman
🍽 Eat: lunch at Peccato di Vino in Otranto, then dinner at the Convento where they have a hired chef in house
🏛 See: visit the cathedral in Otranto, then swim at Porto Badisco on your way down the coast from Otranto to Castro (near the Convento)
Matera (in Basilicata):
🛏 Stay: in one of the cave hotels! Sextantio Le Grotte della Civita is exquisite
🏛 See: explore the sassi churches and winding streets, and take a hike across from the town near some more remote churches if it isn't too hot
🍽 Eat: Osteria Al Casale - we loved both the pastas and pizzas here
Naples & Amalfi Coast
Amalfi
🛏 Stay: Positano was our fave of the small towns along the coast. Stay at Le Sirenuse if you want to really splurge, otherwise this Airbnb is solid.
🍽 Eat: For lunch, eat at Da Adolfo, Treville Beach Club. For dinner: Villa Treville or Il San Pietro. You must have lunch one day at Lo Scoglio - ask your Lucibello boat driver to take you there during your boat trip and they'll wait for you to have lunch. Get the spagetti with clams or zucchini.
🏛 See: get out on the water! best way to see the coast. Go with Lucibellowhich is a higher end private boat rental company. Also hike the Path of the Gods if it's not too hot. Consider checking out the the Ravello Festival if the dates work for a gorgeous setting overlooking the coast.
Capri
🛏 Stay: there are excellent small hotels
🍽 Eat: For lunch, eat at Fontelina, Bagno di Tiberio, or Torre Saracena. For dinner: Aurora or Grotelle (a 20 min walk from the town down the backstreets).
🏛 See: wander the town and/or take a boat trip around the island
Naples
🛏 Stay: would recommend staying in the Spanish quarter if you want an authentic Naples experience - it's old and full of narrow streets with laundry drying everyone, like out of the movies. we stayed in this Airbnb which was solid but nothing extraordinary. there might be some classy old hotels in Naples that could be fun to stay in too.
🍽 Eat: pizza at Di Matteo and/or Mazz, dinner at Casa di Ninetta
🏛 See: the 1 day pizza making class at this Neopolitan school is excellent, and of course you get to eat your own pizza at the end